AQUAGEN DFA PLUS PF BP 5 – 5 L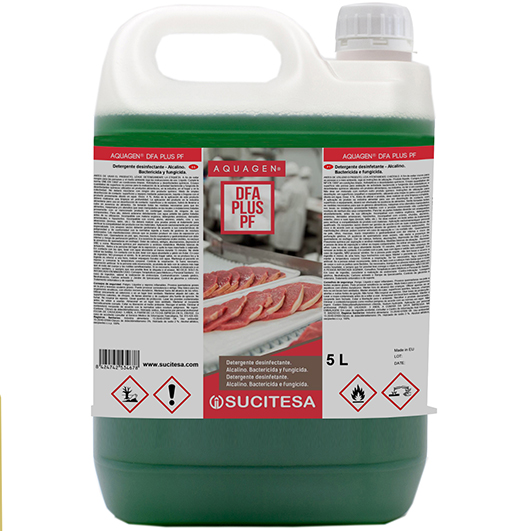 AQUAGEN DFA PLUS PF BP 5 – 5 L
Disinfectant detergent – Alkaline.Bactericidal and fungicidal.
WASHABLE SURFACES AND FLOORS.Dilute 1-4% of the product in water.Wash in the usual way.Non food areas : no need to rinse. Surfaces which can be in contact with food : rinse the surface with a generous amount of water.Disinfecting efficacy.Product diluted in water at 4%.Contact time for bactericidal efficacy: 5 minutes.Contact time for fungicide efficacy: 15 minutes.
Clean and disinfect thoroughly, eliminating bad odours.Maximum efficiency against grease and dirt in general.Ensures the correct hygiene and disinfection required in the food industry.It does not contain perfume, avoiding interferences and contamination of food.
Global cleaning solutions
Quality professional cleaning products