AQUAGEN DFA PLUS BP 5 – 5 L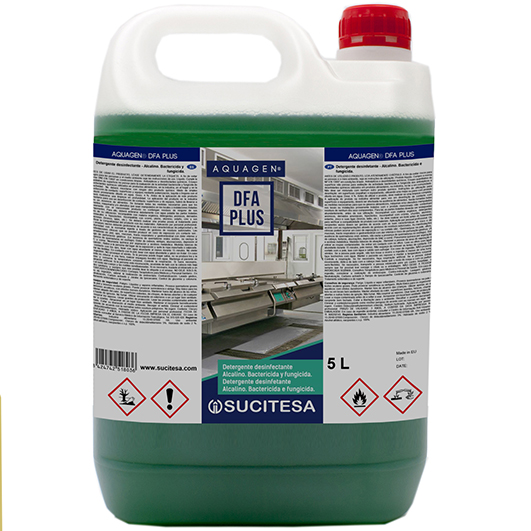 AQUAGEN DFA PLUS BP 5 – 5 L
Disinfectant detergent – Alkaline.Bactericidal and fungicidal.
WASHABLE SURFACES AND FLOORS.Dilute 1-5% of the product in water.Wash in the usual way.Non food areas : no need to rinse. Surfaces which can be in contact with food : rinse the surface with a generous amount of water.Disinfecting efficacy.Product diluted in water at 4%.Contact time for bactericidal efficacy: 5 minutes.Contact time for fungicide efficacy: 15 minutes.
Cleans and degreases.Eliminates pathogenic microorganisms.Provides a high degree of hygiene.Eliminates unpleasant odors.Maximum effectiveness against grease and dirt from professional / industrial activities.
Global cleaning solutions
Quality professional cleaning products